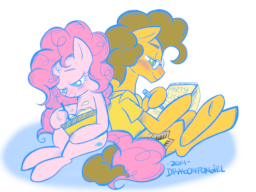 Source
Cheese Sandwich babysits and plans a very small and very important party. Some unexpected guests appear.
His in-laws.
And they are not in a party mood.
Written for the CheesePie contest/prompt, "What Does Pinkie Most Wish For?" CheesePie, obviously, and fluff. Lots and lots of fluff. And disgustingly sentimental. You've been warned.
Cover art by DragonFoxGirl.
Chapters (1)