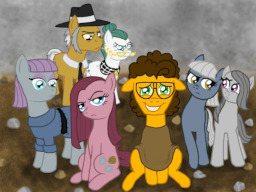 The Rainboom happens as it should, and a few certain fillies earn their cutie marks because of it. Except little Pinkamena Diane Pie, who went inside before she could witness it. Thus, she never left the rock farm.
That meant she wasn't in Ponyville to throw that party that inspired a runaway colt named Cheese Sandwich.
However, the two end up meeting in adulthood, and the broke wanderer Cheese takes a job at the rock farm, and works alongside the grumpy Pinkamena and her family.
My take on an AU, created upon realizing that Cheese Sandwich was indirectly affected by the Sonic Rainboom. And in case you're wondering, the whole eternal night thing goes the same way as the show (except a different mare--whoever you imagine--wields the Element of Laughter).
100% approved and has been featured by Twilight's Library! (6/2/14--6/9/14)
Also, here's a TV Tropes page.
Cover art by me.
Chapters (40)