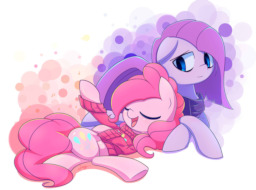 Source
My name is Pinkamena Diane Pie, although most ponies just call me Pinkie!
Or if you're my sister, Maud, you may also know me as Pinkamena, Surprise, D, or Inkril.
Life's been going good for me, except for one little snag. Twilight's starting to ask questions and I really don't want to tell her the answers. There's nothing wrong with me; I'm a perfectly healthy mare that just happens to have some friends in weird places.
Luckily Maud is coming to visit Ponyville for spring break though; she'll know exactly what to do about Twilight.
---
Due to the sensitive subject of Dissociative Identity Disorder that this story covers, it may have triggers to some individuals, but I will do my best to try and mark chapters with such content.
This story also covers what it's like to have DiD, how it can affect your daily life, and how it can affect your relationships with those around you.
Cover art is by joyfulinsanity and is used without permission, but upon his/her request, I shall gladly take it down.
Chapters (10)