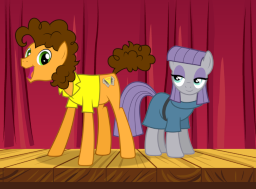 Cheese Sandwich wants to get Pinkie Pie a truly special gift for Hearth's Warming. The problem? Pinkie Pie loves every gift given to her, no matter what it is. So what's a premier party pony to do? Get some help, of course.
And there is only one expert in Equestria on giving Pinkie Pie the best gifts: Maud Pie.
Together they will endure glitter bombs, sound advice, stand-up comedy, musical numbers, chaos, and fondue, all to give Pinkie Pie the best Hearth's Warming ever.
---
Special thanks to SoloBrony who helped me come up with ideas for this story, and to FanofMostEverything, Skeeter the Lurker, and Wanderer D for prereading.
---
This was written for Tethered Angel as a part of Jinglemas 2020!
For more information about Jinglemas, checkout our group!
Chapters (1)