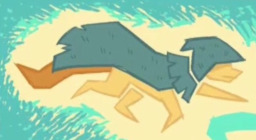 Source
Clover the Clever, Student of Starswirl the Bearded, scholar of magic, bearer of the Flames of Friendship, and hero of the fledgling nation of Equestria has just finished his latest quest to apprehend and stop a master criminal and insidious sorceress. Now he must contend with a task that is often more difficult than it appears: returning to the life he left when he went on his journey.
The chronic and rampant memory loss the witch left him with is not going to help.
---
Written for MagnetBolt as part of the annual Jinglemas Secret Santa Swap!
Prepread by the lovely Wanderer D and Cynewulf. Any typos and errors left are my own. Those two are good, but not miracle workers.
Chapters (1)