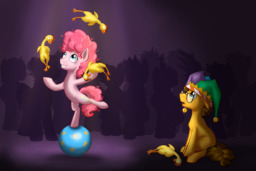 Source
Equestria rejoices as Princess Twilight defeats evil, a castle ascends from the ruins of the Golden Oaks Library, and magical rainbows of friendship billow across the land. But there is grief even in the midst of joy: the Princess laments the loss of her beloved books, and a party stallion mourns a small rubber chicken.
Takes place after Equestria Games: The Cheese Course, and the season 4 finale. CheesePie; part of the same verse/continuity beginning with Swear on Camembert.
Cover art is Filly On The Ball, by Shiro-Gi. Used by permission.
This fic is 100% approved by Twilight's Library.
Chapters (1)