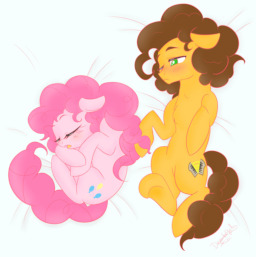 Source
This story is a sequel to Goodbye, Boneless
---
Cheese Sandwich keeps a lot of his thoughts to himself when he's around Pinkie Pie. For a party pony, he's still awfully shy. But today he's going to slip up, think out loud when he's barely awake, and say a lot more than he meant to.
Pinkie Pie is always happy to see her friend Cheesie. And this time, it's not party pony business; it's a really real visit just to see her! He's so much fun to play with, and he thinks the nicest things about her, but she wishes he'd say some of them. Listening in is starting to get awkward.
This is a sequel to "Goodbye, Boneless." Technically, if you're trying to read in sequence, it also falls after "Flash and Trend Steal All Your Waffles." CheesePie, of course.
Chapters (3)