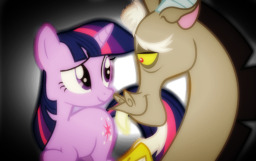 Source
Ever since Twilight had called Discord her friend during her battle with Tirek, Discord began to feel something new for the purple princess. At first, he tries to push them down, but he might come to realize that love might not be so bad. Join Twilight and Discord on this crazy roller-coaster of love.
I am starting a romance series. I'll be taking those famous couples like Cheese and Pinkie or Soarin and Rainbow Dash and taking them down the road of love. I was contemplating on whether or not I should do Twilight and Flash, but then I remembered how many people hate Flashlight. I didn't want any haters just because of him.
So, I'm going with one of the more favored couples. Sorry to those who are Fluttercord and Dislestia shippers. I am just a huge fan of Discolight. Enjoy!
Being rewritten. New version here.
Chapters (11)