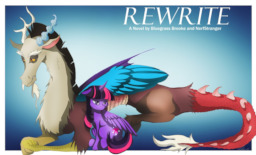 Written by Nerf Stranger and myself. We work on all the chapters together as a team.
After his reformation, Discord had finally warmed up to the idea of having friends, but friendship without trust and mutual understanding means nothing. His latest attempt to gain Twilight's ends in a magical catastrophe. Injured and left without his god-like powers, Discord has to work with the obstinate alicorn to find a solution.
It soon becomes apparent that a misguided spell isn't the only wedge driving the pair apart. When those wedges are removed, it's up to Discord and Twilight to repair the damage. They never imagined it would go further than that . . .
---
Dark tag for emotional dark scenes, not for grimdark.
---
This is a stand alone novel. It is NOT a sequel or branch story to my completed work, This Cruel and Random World.
---
Amazing cover art a gift from Nerf's friend, Madelee. Thanks so much! It's amazing!

Editing for the first chapter courtesy of my buddy Nomad_Sigma.
Chapters (8)