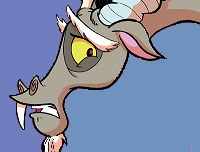 This story is a sequel to Traitor
---
Chaos is inconsistent by nature... even when it would prefer to be consistent.
Discord is afraid that his nature ensures he'll inevitably betray those he cares about again, someday, and he can't figure out how to stop himself. (Spoilers season 4 finale.)
Cover art is from the comics, edited and with background color changed by me. Progress Bar at my writing journal.
Chapters (10)