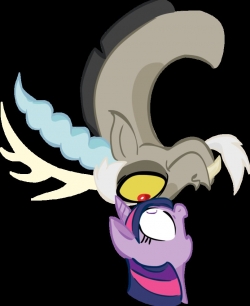 Source
Update: The story is edited into a proper read without many of the horrors I originally put into it. Enjoy the ride!
Deciding he could be given another chance, Luna and Celestia come to an agreement to release the Chaotic God from his rocky imprisonment, locking his powers with a powerful spell. Magicless and with a chance at redemption, Discord's ways seem less chaotic than ever.
He does cause a lot of chaos though, to the faithful student of Celestia, who had eagerly taken over the task of watching over and teaching Discord by giving him a home under her own roof, in the process hoping to learn more about his species, powers and motives but surprisingly learning much more about both himself and her head... Which puts her in pretty amusing situations most of the time.
An adventure of a silly one sided (???) love and a look into the heart of Twilight Sparkle.
Chapters (27)