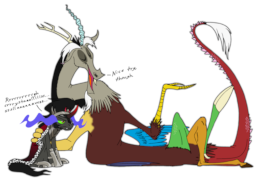 Source
After Sombra gets into an intense argument with Pinkie, he seeks out advice from her friends, only to find they side with Pinkie on the matter. Spike, being extremely sway-able in terms of arguments, sides with the girls and leaves Sombra out to dry. Realizing only one other male in his close net of friends, Sombra begrudgingly accepts Discord's thoughts on relationships.
The poor, damn fool.
---
This story takes place during Chapter 27 and the Epilogue of the series The Not-So-Normal Adventures of King Sombra and Pinkie Pie.
This was a product of my 400+ Follower Story Vote
Chapters (1)