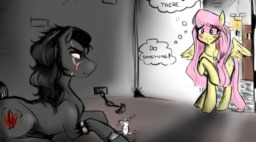 After capturing Sombra, there is little consensus on what to do next. They turn to Equestria's resident villain reformation expert, Fluttershy to be an arbitrator. To reform or not? If only the decision were that simple . . .
---
Inspired by wonderdania's comic on deviantart. Used as cover art with permission. Thanks for getting me hooked on this ship! I love it.

---
Pre-reading by Darkwolfthelycan and my good buddy, Miranda Laufeyson.
Chapters (1)