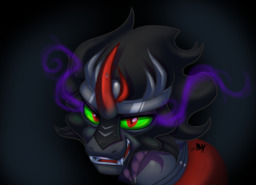 Following his tumultuous defeat, King Sombra is flung across space and time to exit out a human's malfunctioning toaster. For weeks, Sombra monologues his revenge to destroy those that hurt him. But seven months later, when a route back to Equestria is found, does he not seem all that interested in returning.
Edited by spigo.
Prequel: The Roommate From Tartarus
Side Sequel: (Not My) Home Sweet Home
Update: labelled as complete. The last three chapters will remain as bonus chapters.
Chapters (19)