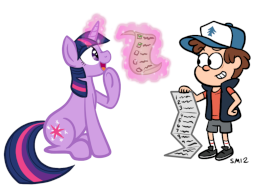 Living in Gravity Falls Oregon, Dipper should be immune to most strange things that come his way. But after a sleepless night caused by a mysterious nightmare creature, Dipper finds himself on an adventure with the fate of two worlds in the balance.
I would like to thank, Viper 9172, Wasabi-Beans, and RecklessRush for helping me edit the first few chapters.
As for the later chapters I have to thank Insula Sol, Dark Matter Butter Flies, and Dudeler. They're all awesome guys, give'em a look!
And a big thanks to serenamidori for letting me borrow her piece for the cover picture.
*Twitch Twitch* FEATURED!? By the the Doctors TARDIS , I never thought it was possible!
Thank you all my dahlings and I hope I continue to impress.
Sincerely Yours, The Cake Devil.
8/25/14
01/20/15
Chapters (21)