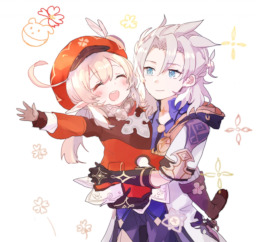 The universe can be a strange and dangerous place. Once you think you've understood almost everything, you are blindsided by something new that changes your viewpoint on everything you had seen before.
In the land of Teyvat, no one knows this better than Albedo, the Chief Alchemist of Mondstadt. As the Captain of the Investigation team for the Knights of Favonius, it's his job to go out into the world and investigate things that cannot simply be understood. Whether it be changes in the behavior of monsters or the ruins of a lost civilization, Albedo's job is turn the unknown into the known. For every effect, there must be a cause or reason behind it.
Yet, Albedo is more than just simply an alchemist. He is also a teacher and more notably, an older brother. Even though she isn't related to him by blood, he see's the little spark knight named Klee as his younger sister. Despite all of the times that Klee had gotten in trouble and end up getting 'grounded' by Grandmaster Jean, Albedo still cares for her and when he isn't busy, would spend time with her and make sure that Klee didn't cause too much trouble whenever she goes out to play
Though, one day, when the two of them venture to the ruins nearby Starsnatch Cliff, they find themselves caught in a rather bizarre circumstance. Now stranded in a unfamiliar world, where magic is present everywhere you look, the two of them have to rely on not just each other, but the residents of the world if they want to make it back home to Teyvat.
As long as Klee doesn't try to blow anything up, everything should be fine... right?
---
A crossover story with the game Genshin Impact involving the characters Albedo and Klee. This idea kind of emerged as a 'what if' one shot, but after giving it some more thought, I thought I would try to take a crack at it.
Credits to everything shown
MLP by Hasbro
Genshin Impact by Mihoyo
Takes place in between season 8 and 9 for MLP and after the Dragonspine quest line in Genshin Impact, but before Windblume and Midsummer Island Adventure. I'll try to be consistent with updates, but some things IRL might have these updates be a bit more spread out than usual.
Reached Popular stories tab and featured temporarily on 02/5/2021. "Klee thinks you guys are the best!"
Featured again on 2/10/2021. "Da-Da-Da!"
Featured once more on 3/26/2021 as well as 5/11/2021
Chapters (45)