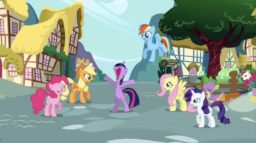 Twilight wakes up one morning, and she can't say a word. Neither, for that matter, can anypony else. In fact, all the sound in Ponyville seems to have gone overnight. Is there a logical explanation for this? Probably not. An illogical one? Maybe...
Written as the last in a loosely connected connected trilogy, which also includes Twilight And Friends Can't Stop Rhyming and Twilight The Phraseologist .
All are standalone stories you can safely read independently of each other, so you don't have to read them to understand this.
Chapters (1)