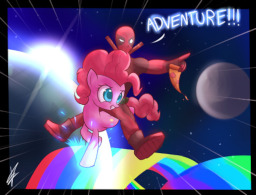 How did Deadpool get to Equestria? How is Discord involved? How come Pinkepie wants his mask? WHY DOES ZAP APPLES MAKE DEADPOOL SANE? How come Luna is back on the moon AND Why am I asking all this?
Well Because I can't think of a good Description!!
"Wade here. Read this story and OR I will find you and shoot you with my rabies infected hamster gun.
I WILL.. I'm watching you reader"
"Also This story better not make me look fat writer, or there will be HELL to pay.
And when I mean hell I mean I will make you watch My Little Pony"
Uh.. doesn't sound so bad
"..The 80's one"
NNNNNNOOOOOOOOOOOOOOO
*writes*
"ENJOY!~!!!"
Chapters (10)