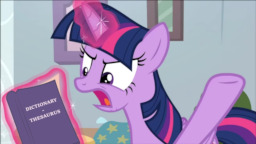 There's a crisis going on at the School of Friendship.
It's not Twilight's main concern.
---
This was written purely to make fun of GaPJaxie for misusing "pouring/poring" in a chapter of the Starlight and Pals Magical Half Hour. It's pretty much a fan chapter for that fic. This was written with no planning, in about an hour and a half, and has had no meaningful editing, but that's what silly GlimGlam fics are all about.
Chapters (1)