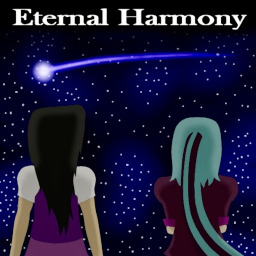 Once upon a time, there were three sirens who were banished to the human world. Adagio, Aria, and Sonata, who were banished for their crimes across space and time. Separated, weakened, but not without their magic, only when all three are together can they become gods, at the expense of the human race. So, the sirens Adagio and Aria, wait centuries for their final sister to arrive. When she does so, and they are united, humanity will have no hope…
Octavia Melody is your classic example of a college student who wanted to get away from home the day she graduated. Freed from her narrowed minded homophobic parents, her three best friends as roommates and therapy, things seemed to be going great. That is, until one night, on a camping trip with her friends to view the Harmony comet, they will discover something, or rather, someone, who will shake up their lives, Octavia's most of all, in ways they could never have imagined. 
Special thanks to Sleepless for pre-reading, and for the, eventual, cover art
Feel free to DM me if you want to join the pre-reader editor team
*marked as adventure, although fantasy might be a better word
Consider sponsoring my work through KoFi <3 Each Kofi will earn you a name and channel shoutout in this story in the authors notes and on my YouTube channel three times.
As a special offer; pledge by chapter four (Not counting the prologue), and your name will be edited into the author notes of those three chapters, even if already published, as well as the three fallowing after.
Simply in this comment section/my Kofi page, say; id like to see more of Eternal Harmony after you have pledge so I can know who's who and you'd like this bonus offer.
Chapters (8)