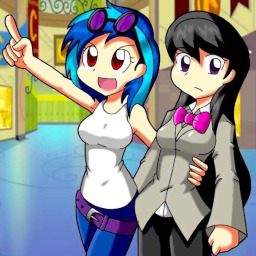 Being a complete introvert, Octavia is very surprised when a strange looking girl in her music class calls her a peculiar nickname. Her name is Vinyl Scratch, and for some reason, she acts like Octavia is her best friend! Who in the world is this girl???
Edited and Proofread by the very talented Shutup868
This story is heavily inspired by my love of Dawnfade's Vinyl and Octavia: University Days and my endearing love of Japanese yuri manga.
Got featured a while back and somepony was nice enough to point that out.
Chapters (8)