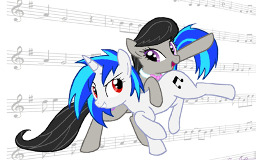 Source
Octavia's performance at the wedding of Princess Cadence was cancelled, and her ensemble was replaced by a mysterious DJ! When she goes to investigate, she discovers a world of music she never imagined from the turntables of Vinyl Scratch. She takes a chance and follows the DJ back to her home in Ponyville, and begins a journey full of music, love, laughs, some tears (maybe?), and... an evil plot!? What?
Let's read along, shall we? But brace yourself... it's gonna take a while.
Each chapter comes with a one-panel comic in the author's notes, drawn by yours truly!
Chapters (28)