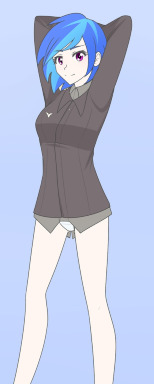 Source
Ever have the perfect girlfriend? A girlfriend so beautiful, so classy, so entrancing that you'll walk to school pantless at the sound of her voice? Octavia's that kind of a girl... and after I tell her my morning's story—if she's not blushing half as much as I am right now—then she owes me a damn beer.
---
Cover Art: ©2014-2016 JonFawkes. Find their art work on their deviantArt page. Permission granted by the artist for use of their image.
Thank you to Posted, Iryerris, Dovah Vahlok, and PiercingSight for prereading. Thank you to fourths and Scarlet Storm for editing. And finally, thank you to shortskirtsandexplosions for the idea.
Chapters (1)