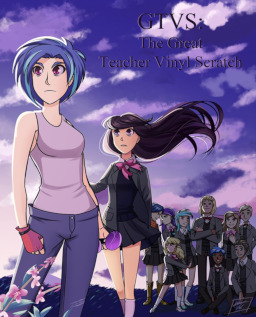 Source
This story is a sequel to Fashion Crush
---
(Humanized) Vincenza Scratch, AkA Vinyl for her friends, AKA DJ-PON3 on stage, 22 years old. The DJ found herself in one of the low periods of her young career, probably the lowest and longest she ever experienced so far; writer's block, out of ideas for a new genre of music as her 'classic' electronica seems to go out of the crowd fashion, less and less attendance to her gigs, etc.
Starting to run low on money, She gets in touch with one of her mother's friend in the capital, Vito Philharmonica; Member of the board of one of the most prestigious private high school. Vito offers her a place to stay and a job to help her to get back on track : A music teacher job for a Highschool senior class, which includes Vito's own daughter, Octavia.
How's Vinyl going to teach to a bunch of teenagers when she's barely older than them? ( and probably not much more mature as well). And when other teachers and some of her students look down at her for being a 'simple' DJ? One answer, Becoming the GTVS: THE GREAT TEACHER VINYL SCRATCH! (Yes inspired by GTO, one of the coolest manga ever)
Fanart for the story on tumblr or on DA!
Chapters (23)