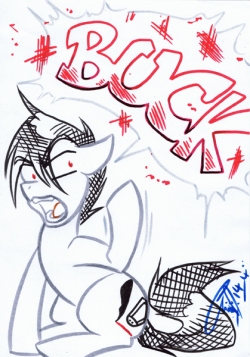 Stop me if you heard this one: I have been sent to Ponyville on a personal quest. Now I'm stuck in a town with a cowgirl with a manly-sounding name, A crazy cat lady with variety, a damsel who wants to make me look fabulous, an egomaniac (who could be gay... it's the hair), and a mare so hyped up I swear she was on something.
No, I'm not Twilight Sparkle, but it is HER friends. I don't have any. That's why I'm stuck here. My name is Woundsalt.
---
Uber thanks to Carnival for this magnificent creation of a cover.
And do you really need a warning that there are spoilers in the comments? I expected more from you.
FANGROUP!
PATREON!
FEATURED SINCE 30/08/14 AND PRETTY MUCH DOING IT SINCE!
Chapters (44)