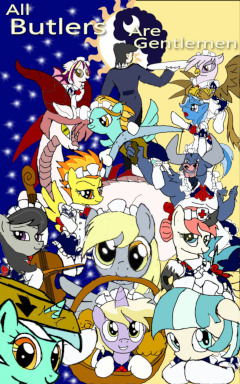 [img]http://s33.postimg.org/7bfqvgx33/Butler.png[/img]
"My lady once wrote in her very personal and very secret diary that I have problems appreciating personal space. I beg to differ on that sentiment." - A Butler commenting on Professional Discretion -
I'm a Butler. My friends, the imaginary ones at least, call me Butler. My job, looking after my lady, can be...challenging at times, but rewarding. Lately the job's become a little more difficult, especially after my lady's sister returned from the moon and the parliament decided to try and pass an entire bill just to be able to legally get rid of me. But managing the chaos is part of the job description, even if it means I must secretly become my lady's knight captain of her personal bodyguards in order to keep my job. Though even I could never have anticipated having to train knights cunningly disguised as maids to stay one step ahead of the nobles. Ah, the things I do for my princess.
---
Featured 9 - 12 August 2014. Many many thanks to everyone who kindly made this possible! You guys have doubled the fun!
Now featuring the editing talents of our resident editor Dumbgamer99. Be sure to thank him by checking out his page and giving him a follow!
Butler tag kindly made by undead003. Many thanks! (You'll find it actually works if you click on it.)
Cover Art: This picture totally contains ninjas. You just can't see them, cause they're that good.
Chapters (10)