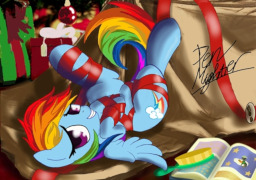 "Do Humans Hibernate?" Rainbow has a question on her mind. She's not entirely sure why it's bothering her so much. It probably doesn't help that the only human she could ask is the world's greatest liar.
---
Cover art by Pusspuss this random guy called 'Pen Mightier' who probably wishes he is Pusspuss but isn't.
Marshal: (mɑː.ʃəl) noun….etymology - archaic: Middle English, from Anglo-French 'mareschal', of Germanic origin; akin to Old High German 'marahscalc', from 'marah' (horse) + 'scalc' (servant). Originally referring to "a person in charge of the upkeep of horses or stable hand". The station became a position of trust and power in medieval courts and went on to acquire its modern military usage.
Chapters (11)