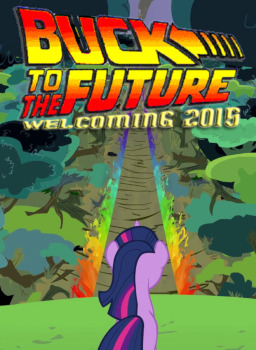 Source
In celebration of 2015! We have made it, folks. We have made it to the Future!
---
"Little Lady, I swear you're going to be the first filly to ever be grounded before she was even born!" - A Very Concerned Father
Have you ever wondered what your life would have been like if you had become an engineer, a farmer, a heroic airship captain, a vet, the leader of the anti-robot resistance, a baker, or maybe the overlord king of Tartarus? Have you ever wondered what the future might have been if you had dated person A, had that fling with person B, married person C, became the faithful servant of goddess D or pissed off evil godlike entity E? Have you ever wondered where life would have taken you if you were destined to be the universe's last hope-...err, rather, sire the universe's last hope? I used to.
Now the products of all my possible life choices have come over for dinner. From the future. And they are adorable. And they are my children. Apparently they are each from different parallel futures where particularly excellent life choices on my part had led to various big evil monstrosities and demi-gods taking over the entire universe. Luckily, each timeline has one last hope - these little fillies. And they have come to save me from assorted assassins from their various futures who've come back in time to kill me to stop them from being born. To top it all off, these little fillies have got to fix what bit of history they haven't blown up by making sure I get together with their mothers so that they can actually be born. It doesn't help that they all came from different mothers. And choosing one may or may not create a time paradox that might erase the others...or the entire universe as we know it.
The universe is gonna be fiiiine.
---
Features slice-of-life filly-raising shenanigans filled to the brim with sugar and diabetes with a side of backseat romantic comedy and filly-powered swashbuckling action for good measure.
Cover Art - Placeholder picture from the Epic Animation Double Rainboom by Zachary Rich and FlamingoRich Studios. If you haven't seen it yet, go check it out. It is as awesome as it sounds.
Chapters (1)