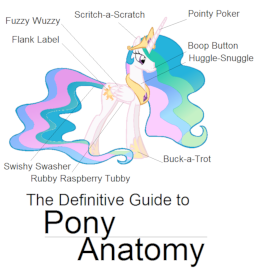 [img]http://i.imgur.com/NtX01an.png[/img]
---
(Clean family-friendly comedy with adorable Celestia being adorable, absolutely nothing explicit) Now with youtube readings! The Gentlemanly Reading by The Magpie, the Scientific-Plushie-Method reading by HanaYoriUta, And the Manly Reading by CaptainBron3y!
---
Should you find yourself a visitor to Equestria, it would benefit you to be able to tell a pony's rubby-tubby from his or her boop-button and fuzzy-wuzzy. Herein is your definitive guide, written by an expert upon the science. Published with the royal approval of Her Royal Majesty Princess Luna and the silent tolerance of Her Royal Majesty Princess Celestia.
Published by the Royal Canterlot Publishing House for the Royal Equestrian Diplomatic Mission to Earth. For human audiences only. No alicorns (or humans) were harmed in the making of this guide.
---
Inspired by this thread by Nuke
Chapters (1)