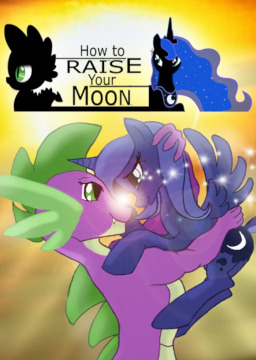 Source
"I can face the whole world with one claw, as long as your hoof is holding the other." - A Dragon in Love -
Luna and Spike romantic feelgood thriller with a dash of political intrigue.
---
'...a great and glorious orchestration in romance...' - Wing, Non-Pareil Fiction
'You made me cry tears of sorrow and joy, cheer like a madman and truly be happy for the two characters I never even liked in the show.' - Eversquee
'This is the most I've laughed, cried, exclaimed and cheered in a long long time.' - Melancholy
'I usually don't like romances, but this one is awesome!' - Aguion12
'When the characters are happy, I'm happy. When they're not, I'm not. It's all so perfectly done..' - Drgnwolf
---
Greed strengthens a dragon. But what of the opposite? Spike feels a little bit of himself broken away with each passing day as Rarity flaunts her newfound love with another stallion. But that's the least of his troubles. A formal gala for which he is the guest of honour quickly approaches. With the relationship between the Council of Friendship and the nobles of Equestria at stake, he is certain this gala could only end in a big political disaster. Enter Princess Luna, cunningly disguised as the sweet elegant mare by his side, intent on turning him from a laughingstock into the star of the show. But jealousy and misfortune swiftly strike, leaving Luna permanently stuck in her disguise. Together they must maintain their cover until they somehow figure out how to fix everything. As the days pass, as the 'one more day's turn into a week, they slowly come to a startling realization - Perhaps there is nothing to fix?
Proudly brought to you by our hardworking editor dream team, Not A Hat and Brad The Brony
Story Art 1 - The Moon Rises!
Story Art 2 - Moonlight Sonata(Disguised Luna)'s cutie mark
Story Art 3 - The World Has Been Doubled!
Story Art 4 - Moon Walk
Story Art 5 - Raising the Moon
New Cover Art by this guy who's into candy-coloured little equines. Apparently calls himself Pen Mightier or something.
Old Cover art by the talented Yakovlev-Vad! Please be sure to give him a 'watch' on his DA as thanks!
---
---
Comments from the Readers (Spoiler Free)
'We're taken on an adventure, and if I dare say, we aren't just told the damn story. We're allowed to experience it. Spike has a moment, and I feel warmth. Luna tosses off the royal baggage, and I feel the feels. This is a great and glorious orchestration in romance...' - Wing
'Bravo! Bravo! ...I'm not into Romance stories because I don't really like them at all but this story here...This is my favorite!' - PlatinumPony
'I don't think I can accurately express how much I truly enjoy this story, right now. When the characters are happy, I'm happy. When they're not, I'm not. It's all so perfectly done that it's like I'm living the story instead of merely just reading it off a page. This already wins first place for most adorable story I have ever read...' - Drgnwolf
'Oh my Gods the feels! I smiled, laughed, got very angry and very sad all in one chapter! Please oh please complete this awesome tale soon! The suspense is killing me!' - Wiriamuzu
'I always wait until a story is finished before thinking about adding it to my favorites. Always. I have never added a story to my favorites before it's finished. This story is the one exception.' - Jomp
'Yeah. You just made a grown-ass man make a 'squee' sound.' - HoneyBadgerr
'Of all the stories I've read I can safely say that this is the one that best combines the written word with sound and music, there are plenty that have tried the same and not even come close to what you achive here.' - Lore
'This is the greatest story I have ever read. This is also now my favorite story. If you don't upload another chapter soon I will wait patiently until you do. I will climb mountains for this story. I will go to Disney Channel.com without my parents permission for this story. If i don't finish this story, i will write down in my will for someone to finish it for me. You, ascended pony writer from a land where the pigeons poop gold, are the greatest person in history.' - Blooming Cherries
'I am loving this story so far. The storytelling, the drama... oh it is so magnificent. A well crafted story by a well deserving author. I tip my hat to you sir. I can see some form of "Beauty and the Beast" in here. But what also surprises me is the way it is written. I've even had some moments of portraying Spike as Holden Caulfield from the famous story, The Catcher in the Rye. Just the way he speaks sort of reminds me of the way that poor man was, and the bits of Spike not wanting to detach from Rarity felt similar in the regards of Holden not wanting to grow up. Again, Pen Mightier, you have done a great job. Keep up the great work!' - XxEpsilonxX
'My cheeks hurt because I been smiling all the way down the chapter. Princess Luna really is the best pony.' - Allen Vth
Chapters (10)