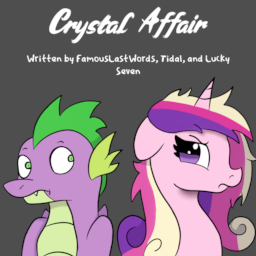 ---
Cheating. It never leads to anything good. Hearts get broken, trust is lost, and lives are ruined. Unfortunately, even the best of relationships are not immune to it.
When it comes to light that Shining Armour has been in a secret affair with Rarity, it leaves Princess Cadence and Spike stunned and badly hurt. Leaning on each other for comfort, the two devise a plan to not only get revenge on the ponies that hurt them, but maybe even heal their broken hearts along the way.
---
Note: This fic was written during season 4 originally, so that's why Flurry Heart isn't mentioned.
Coverart by: Not Enough Coffee
Inspired by the album Two-Faced Charade by Famous Last Words.
Chapters (13)