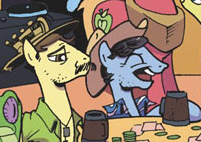 The Rowdies
449 members follow B_25
B_25 follows 21 members
Welcome
Call me B.
Some years ago—never mind how long percisely—having little to no friends, and nothing in terms of self-respect, I came to this site to write about an out of character purple dragon. For whatever reason, I adopted an underscore as my middle name, and the number 25 as my last 'cuz it matches my IQ.
Please send me messages or join my discord as I am lonely amongst this vast website.
~ Descendants of Writer ~
Quotes
Greetings.
The following quotes have touched me (improperly) in some manner or fashion. Some contain wisdom, others energy, the rest just tomfoolery.
Please enjoy.
---
"I don't care if I live or die.
You make your choices based on what's fun or not.
I decide based on whether I love it or hate it.
I hate the idea of joining a guy like you."
–Kiryu, Yakuza 0
"All I gotta do then is kill everybody who comes gunnin' for me.
Once you step into the shadow, you're stained black for life. But...
You can still choose who you bring down with ya."
–Goro Majima, Yakuza 0
"Aim at writing an orderly discussion supported by evidence, not a summary with the occasional comment."
– Strunk and White, The Elements of Style
"Just because you have a special ability does not make you any less human.
You must embrace that as a part of yourself and continue to live positively.
The truth behind one's charm is kindness.
Become a good person. That is all. "
–Reigen, Mob 100
"Other than that and trying to picture the world in your head
make sure that it's cohesive
put yourself outside writing
read your work and think about the picture at every level
does it make sense
does it flow
Imagine you're painting a scene in your mind
you need some broad brush details
you need your reader to be able to imagine what you're imagining
what you're thinking of when you write
you can be austere too
just the right amount of detail"
–Writer
"You gotta just relax and keep going.
You can't worry too much about obstacles you may encounter."
— Great Teacher Onizuka.
"Winning is a lame reason to stop improving.
There's always someone better than you on the ladder of success."
— Great Teacher Onizuka.
Dan Harmon's advice for young folk:
"Skip the cocaine.  Best case scenario, you become a bad person for a half hour and then need more coke; worst case, you end up homeless or dead.
Don't judge things that make you jealous and don't lie about the jealousy.  Just say you wish you had something and figure out if there's a way to get it.
Good writers hate bad writing but hating bad writing doesn't make you good.  Writing badly does.
Luck and talent are the same thing, and neither of them has anything to do with your value as a human being.
When someone gives you a compliment, and you tell them they're wrong, you're not being humble, you're being rude.
People attempting to prove you're a bad person will shut up if you admit it, and they'll leave you alone if you ask them to help you be better.
You're going to marry Erin McGathy so try to be upfront about that with all the women you date for the next 27 years.
You can't control the outcome of your actions, so make your actions fulfilling.  That way, if the outcome is shit, you weren't a total sucker.
Brush your teeth at night and cut down on the carbs.  Gawker and TMZ don't scour the archives for your only hot photo. "
— Dan Harmon
"A writer has no enemies or allies, no audience. A writer rolls in mud and tracks it in."
— Dan Harmon