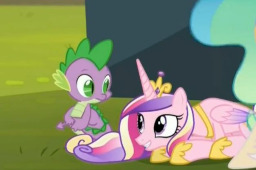 Spike, like many teenage boys, is at a loss for romance. Kissing girls is as foreign as shedding for a pony. Seeking guidance, Spike turns to the one mare he trusts with such a matter: Cadence.
Taking him under her wing, Cadence sets up practice dates for the young dragon. But with each date, something grows underneath the surface. The dividing line blurs, and practice soon becomes reality...
Thanks to Vexy and The Abyss for kicking this fic into shape.
Chapters (1)