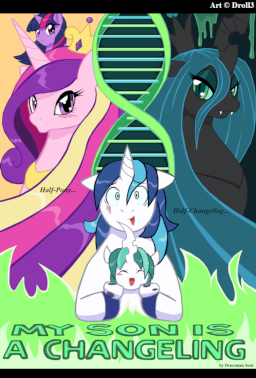 Source
Who would have thought a pony and a changeling could have children together. I certainly wouldn't have. This is Shining Armor, and I'm in a weird situation. Chrysalis has shown up to my home and dropped a kid off stating that it was our son.
What will Cadance think? How am I going to raise a changeling child? Why does Chrysalis keep coming into my life, and why am I finding it harder to keep her away? Hopefully answers can be found with as little problems as possible. Oh who the Tartarus am I kidding, my seed is a changeling! There's bound to be a problem along the way.
Story inspired by Bakki's excellent fanart.
Cover done by Droll3. Thanks Droll3, and go check his work out
Chapters (7)