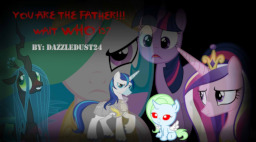 It's been nine months since the wedding in Canterlot and the changeling race was defeated and all is well. Until Queen Chrysalis returns with very surprising news.
She is nine months pregnant!
But why does she come back just because of that? Because she says one of the ponies she touched/was touched by during the wedding is the one who got her pregnant.
Changelings don't reproduce the way ponies or any other creature does. So even two females can have a baby together. So who is the daddy/other mother? Is it Shining Armor? She did have lots of contact with him. Cadance? She was the one Chrysalis captured. Twilight? Technically they did share a small amount of contact. Or... could it honestly be Princess Celestia?!
One of these four is the other parent to this unborn changeling/pony hybrid. And now they won't know who until after the foal is born. But each one is conflicted about what they will do if it is theirs.
And each one puts a little effort into trying to be nice with their possible-baby's-momma. And they get to know the Queen of changelings a little more. And there's a lot more than they thought there was...
Chapters (2)