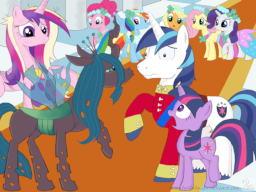 Source
Chrysalis has been defeated, now Shining Armor and Cadance can be wed. Or can they?
...Well, no. It seems the bride objects to it. Is this Cadance a changeling too? No, that would make far too much sense...
From a concept by defender2222 comes a tale of love...really, really screwed up love.
Image by SwanLullaby.
Chapters (12)