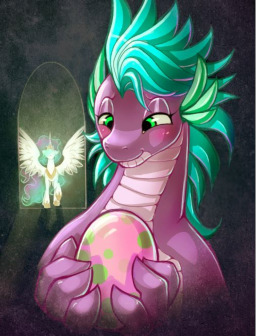 Spike has always considered Ponyville his home, and has always held Rarity a special place in his heart. That is, until a group of dragons showed up after years of looking for him. After meeting his real family and hearing why he was brought into the ponies' care, he starts to rethink his old thoughts.
Now he only has a week to make a decision: either stay with the ponies who loved and cared for him most of his life, or go with the dragons and finally be with his real family. The decision would have been all so clear...
...if there wasn't another factor in the equation.
Much love to those who oversaw the story:
Pre-Readers: Skeeter the Lurker & Mr101
Editors: The Abyss & Man_Demon
Chapters (3)