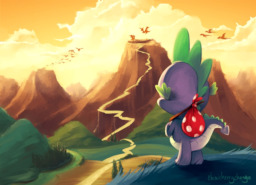 Source
It has been five years since he first arrived in Ponyville, and Spike has grown both physically and emotionally. Yet even though he's remained infatuated with Rarity for so long, he's bottled up his feelings, until reality hits him, and his depression forces him to make certain decisions he may later come to regret. Now he must face reality, and all that it entails, including his own reflection, whether he likes it or not.
Spike's choices, however, affect not only him, but those closest to him as well. The six ponies he holds closest to his heart will bear witness to his suffering, and they themselves shall know love at its best...
And at its worst...
Rated Teen, because, just in case. Sometimes it's better to be safe rather than sorry. No sex or gore, just in case you were wondering.
Planned out and written previous to the airing of My Little Pony : Friendship is Magic Season 2 Episode 17. Special thanks to SocraticBrony for all the help and inspiration!
All characters belong to Hasbro and Lauren Faust and blah blah blah, whatever, but the story is MINE. If you'd like to share it, or whatever, I'd ask you to please ask for my permission first.
Chapters (13)