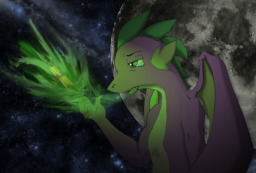 Source
As the years drew on, Spike's childish heart grew into that of a true adult, longing for the finer things in life; the finest things. He pursues his relationship with Rarity, but all does not go as planned.
Filled with anger and sorrow, Spike and Rarity fall away from one another. In his grief, Spike pursues new interests, and their friendship is in danger of never recovering.
But perhaps the truest words in life are these: you do not know what you had until you have lost it. Jealous and alone, finding no comfort in stallions she once loved, can Rarity reclaim her one chance at true love, before it is too late?
Chapters (13)