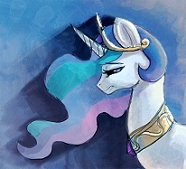 When you live forever, what do you do with your time?
Do you love and lose, win and fall, hope and curse?
Do you seek to outrun the truth or face it valiantly?
Twilight Sparkle is dead, never to return, never to smile or pout or have that twinkle, that sparkle in her eyes again. Twilight Sparkle is dead and together, two creatures born with eternal life, two creatures brought together by sorrow and circumstance must try to overcome the simple fact that she is dead, that she has passed on and left them all alone.
But perhaps, through death and the passing of a loved one, something else can bloom from the ashes.
I absolutely detest writing out descriptions for my stories because I suck at capturing what the story is truly about in them.
Anyway, this is my first romance story, involving Spike and Celestia, so it's a peculiar couple indeed.This is also my first truly sad story so I hope I captured some feels.
Chapters (3)