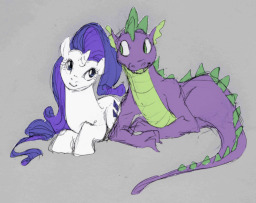 Source
On one of her regular hunts for gemstones, Rarity discovers a treasure trove beyond her wildest dreams... and the lavender-scaled dragon who collected it. Despite a rocky first meeting, Rarity and Greenfire soon find themselves drawn to each other more and more. But the question remains: How did a young dragon end up in the Everfree Forest all alone?
An alternate universe story that puts our favorite purple dragon and his beloved fashionista into a slightly different situation. Art used with permission from the wonderful ArtisteFish!
Now with a TV Tropes page! Thanks go out to Poptard and whoever else might feel like editing it.
Fan Works
Climbing the Cliff by Pia-chan (from chapter 5)
Such a Pleasant Chat by Fukaï
Some Form of Tea by Pia-chan (from chapter 4)
Promo Animation by CMagic (mild chapter 6 spoilers)
Chapters (7)