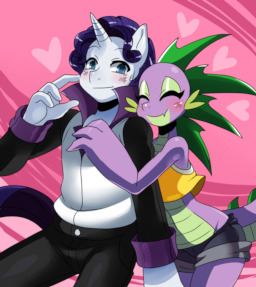 Barb has just turned eighteen and decides that she has waited long enough to finally tell Elusive how she feels about him; the only problem is she doesn't know how to do it.
Wanting the moment to be perfect, she seeks help from Dusk Shine. The only pony, which she's aware of, who knows about her crush and the two come up a plan to ensure the day goes off without a hitch, Barb will spend the day with Elusive before finally confessing to him at her party at the end of the day.
But sometimes… even the simplest of plans can have a few hitches.
Rule 63 Barb x Elusive shipfic.
Cover art done by the fantastic Ss2sonic.
Chapters (1)