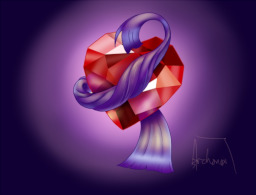 Source
Rarity has disappeared. Not just stepped out or gone away on short notice, but completely disappeared, leaving her work unfinished, her friends mystified and, for some reason, her hair all over the ground outside the Carousel Boutique. Without a clue to her whereabouts, faced with rumours of a dragon stalking the town and troubled by a mysterious work of magic, Rarity's friends face up to the possibility that they may never see her again.
And then they find her...
NOTE: On hiatus until I can find a way out of a huge plot hole I just noticed. Sorry folks.
Chapters (5)