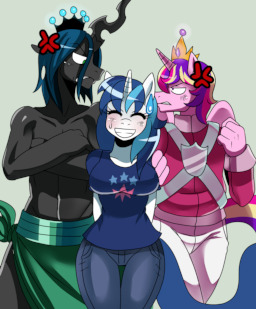 Gleaming Shield has many suitors, when she became Captain of the Royal guard she quickly become the affection of many a different noble, guardsman and commoner alike for her renowned beauty. Her recent suitor, Prince Bolero, is determined to win her heart.
But, he might have some competition…
The King of the Changelings, King Metamorphosis, is residing in Canterlot for peace talks with Prince Solaris and has become smitten with the young mare the moment he laid his eyes on her, now, these two are determined to win Gleaming Shields heart and ask her to the Grand Galloping Gala.
But who will win the fair maidens heart?
---
A silly rule 63 Gleaming Shield, King Metamorphosis and Prince Bolero story. Cover art by the fantastic Ss2sonic.
---
Inspired by the cover art and a ATLA cartoon short. Thanks to RainbowBob and bocaj518 for their help!
Chapters (1)