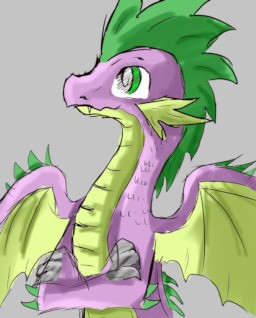 After Twilight became an alicorn, it seemed as though her entire personality was a bit off. Twilights behavior towards him was really weighing down on Spike, and his growth spurt just a few years ago didn't help with his romance/social life. With so little time to himself, and finding that his life wasn't going to go anywhere in Ponyville, Spike flew off towards the badlands to find his future. Though he left without saying a word, he did leave a note promising he would be back in a few years. While living out his life in the badlands, somedragon ends up opening his life to a whole new world...
First fanfiction ever, and this is just a Spike scenario that has been bugging me for the past month or two. And if you can't tell by what the description and title give you, then let it be known that this is a spike x dragoness fic.
As the story progresses, many other of the spike fiction authors might find tiny references to their stories... one of which is in the prologue.
So yea, big thanks for the inspiration from the multitude of spike fan fic writers.
Hope you guys will give it a shot. Oh, and Spike has wings and magic, but hides the magic from Twilight for obvious personal reasons. Also, didn't know whether or not to add alternate universe tag because there is a dragon civilization, but Equestria has just never known about it.
Chapters (3)