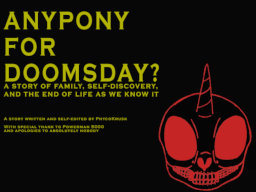 "All unicorns build doomsday devices!" Those five words were words that Twilight Sparkle never expected to hear next to each other and in that specific order in a sentence.
King Sombra has returned, and upon discovering that Twilight Sparkle has not even considered building a doomsday device, has given her an ultimatum: Either she builds a device that has the sole purpose of destroying the world, or he starts defacing her books.
The clock is ticking: Will Twilight be able to get in touch with her inner mad science and save her imperiled reading material? More importantly, is she really destined to bring about the end of the world? Are unicorns really nothing more than a cosmic reset button, poised to bring a halt to all existence at a moment's notice even in the face of past evidence suggesting that they're not very good at it? Will Twilight succeed where all others have presumably failed? Does she even want to?
Join in as we follow the journey to answer the question on minds the world over: "Anypony for Doomsday?"
Chapters (7)