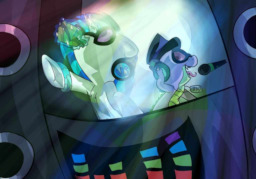 Spike decides he wants some spending money, so he gets a job as an assistant to the local DJ, Vinyl Scratch.
What starts off as a part-time 'errand boy' job, quickly evolves into a close friendship, and may become something more in time. Apparently, they have more in common than they ever would have thought.
Super special thanks to Avox for being my editor.
Super speical thanks to themouthofmush and Starlight Shadow for Proofreading. You guys rock!
Cover by: wafflenaw
Chapters (25)