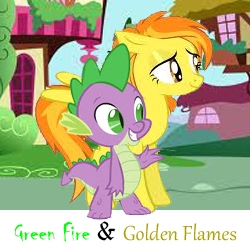 Spike and Spitfire, one a dragon and the other a Wonderbolt, were unknowingly brought together by a day neither wish to remember in the slightest; Spike nearly levelled the town he loved and called home, while Spitfire witnessed the true might and fury of a dragon, and nearly lost close friends and team mates in the process.
Needless to say, the experience left them both with their own mental and emotional scars, scars which show no sign of healing quickly nor easily.
So when nightmares, guilt, and perhaps a slight twist of fate (courtesy of some annoyingly persistent friends trying to help) brings the two together again, and a potential chance to make peace and move on arises to each through the other, both decide it's at least worth a shot.
But, as is sometimes the case, even the best laid plans can have unexpected results.
Main - SpikeXSpitfire
Secondary - SoarinXDash
.....................................................................................................................................................
Author: Freelancer
Co-author/Editor: Edragon (has since left FimFiction)
Chapters (2)