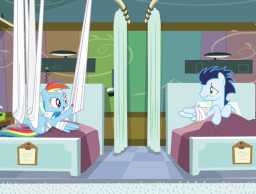 This story is a sequel to Storm of Emotions
---
After the turbulent events of the Royal Garden opening, Rainbow Dash and Soarin's friendship went on surprisingly well. With everything that happened, they could learn more and realize how much they are important to each other. Soarin even offered Rainbow Dash an opportunity to have weekly practices with him at the Wonderbolt Academy, which she gladly accepted.
With only a few days until the start of their training, they have an unexpected (and quite painful to Soarin) reencounter, that ends up taking both of them to the Ponyville hospital, where they learn a little more about each other.
As their weekly practices begin, their connection only deepens, making them question their feelings and contemplate the thought that, just maybe, their friends were right all along.
Chapters (1)