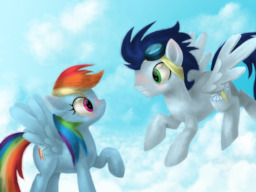 Source
After a particularly poor flight rehearsal, Captain Spitfire chews out Rainbow Dash for her sloppy form. While distraught, Rainbow Dash is able to keep it together until said rehearsal is over.
Soarin wants to console her, but Rainbow Dash isn't the type of mare that needs consoling. Maybe she just wants some company?
---
Rated E for good vibes and general cuteness, easily the tamest thing I've ever put out.
Cover art by xX-Mr-No-Name-Xx on Deviantart.
Proofread and edited by Sir Penguin of Chapped Lips.
Written for and suggested by Wonderbolt Writer. 
Chapters (1)